Library
The library is open 7 days a week during term times and on weekdays in vacation periods, with 100 study places arranged to provide a comfortable and relaxed atmosphere. It contains 40 networked computers for quiet use at any time and supplements the computer facilities on the first floor of the Learning Resource Centre. Further information, including opening times, can be found on here
Sports Centre & Golf Complex
Our recently refurbished fitness suite offers a range of cardio machines, free weights and resistance machines. We also have 2 Strength and Conditioning Suites, fully equipped with a trio of Absolute Performance squat racks and fitness equipment, Bison TM Olympic Lifting Plates and York free weights.
The Golf Complex offers a 9-hole golf course, short game practice areas, indoor swing analysis rooms, Skytrak launch Monitor Simulator room, fully equipped Gym/Strength & Conditioning Suites and an on-site restaurant.  
The student membership fees for the Sports Centre is £150.00 for a full academic year gym membership and 49.00 per academic year for golf course membership 
Car Parking
The College provides limited car parking spaces for residential students in designated student car parks controlled by an access barrier.  To access the parking areas, you will need to obtain a car park fob during the first few weeks of term (the barrier will not be in use until car park fobs have been issued).  To apply for a car park fob, you will be required to complete a registration form and provide supporting documentation including a V5 registration document to prove ownership of the vehicle, letter from parents/guardian giving permission to use vehicle, valid MOT, insurance certificate and driving license.  You may find it useful if you bring these with you when you move in.
All students are asked to drive with due care and attention and observe the 10 mph on campus.  Parking of vehicles in undesignated areas around the site, on footpaths, in visitors' car parks etc is not permitted.  Vehicles parked obstructively or in the wrong place will be ticketed and a fine may be charged.  Any student persistently breaking the rules or driving dangerously on campus will result in disciplinary action.  Please note all vehicles are kept on campus at the owner's risk.  Vehicle maintenance should not be carried out on any of the car parks.
Transport
The Preston campus of the College is located in a rural area.  The popular 'Number 80' bus service runs during the day (Monday-Saturday), between College and Preston Bus Station, as does the 401 service to Bilsborrow Village and Brock (Monday-Friday), to connect with the Stagecoach 40/41 service to Preston and Lancaster and this bus service can also be accessed on foot a short walking distance away. Find further information on transportation links on our transport page.
Mail, Payphones and Money
The Reception team will email you when letters and/or parcels are received for you. These will then be available for collection from Main Reception between 8:30am-5.45pm, Monday to Thursday and 8.30am-4.45pm on Fridays.  You will be required to show your ID and we ask that you collect your mail at the earliest available opportunity.
Please also help us by asking that any mail sent to you be clearly addressed. There are two payphones on campus.  These are located outside Kent hall of residence.
There is also a Barclays Bank cash machine on site located to the right of Reception. It is free to use for cash withdrawals, account enquiries etc. Be aware of your surroundings when withdrawing cash from ATMs, especially during the hours of darkness.
Laundry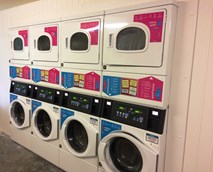 There are two laundries available on campus – one next to Duddon hall of residence and one located behind Pendlewater.  To use the washing machines and tumble dryers in the laundry, you need to purchase a re-useable card from the Minimarket for £2.  Once you have purchased a card you then need to create an account online and top-up your card.  There are detailed instructions on how to do this on your card and there are full instructions on how to use the washers/dryers online (www.circuit.co.uk) and in the laundries. These laundries are run by an external company. Irons and ironing boards can be provided on request from the Residential Operations team.
Health and Medical Services
Living at College is a challenging and exciting experience with lots of opportunities, but adjusting to a new environment can be difficult.  You may find the transition easy. However, you may find the first few weeks at College difficult and different from what you are used to.  If you find things are overwhelming, please talk to someone – the Residential Support team, staff in The Core and Residential Operations staff are here to help in any way that they can.  Do ask for advice.
Televisions and Online Viewing
You are allowed to bring with you a small television for your room (maximum screen size 28").  You must be covered by a TV licence if you:
watch or record programmes as they're being shown on TV or live on an online TV service
download or watch BBC programmes on iPlayer – live, catch up or on demand.
 This applies no matter what device you use, whether it's a TV, desktop computer, laptop, mobile phone, tablet, games console, digital box or Blu-ray/DVD/VHS recorder.  You could be prosecuted if it is found that you have been watching, recording or downloading programmes illegally.  The maximum penalty is a £1,000 fine plus any legal costs and/or compensation you may be ordered to pay.  See www.tvlicensing.co.uk.
Wi-Fi Internet
Whilst you are a student at College you can connect laptops and other mobile devices to the internet and campus network, free of charge, using our secure Wi-Fi service which is available in your accommodation and in a wide range of buildings, teaching spaces and areas across campus.  Students accessing and using the student computer network should do so in a responsible manner; at all times observing the College requirements within the legal framework in accordance with the Student Acceptable Use of IT Resources Policy and Procedure.  Access to gambling, pornography and sites deemed to support terrorism are blocked and suspicious activity will be investigated.  To access the internet and College network you will need your College credentials to connect each device via the student or residential network.
Mini Market
Located in the building by the Lecture Theatre, you can purchase a wide range of essential supplies including chilled and frozen foods, groceries, toiletries, stationery, stamps, greeting cards, drinks and confectionery. They also sell newspapers and magazines and if there is anything you wish to order on a regular basis, please do not hesitate to ask. Normal opening hours are Monday-Thursday 8.00am-9.00pm, Friday 8.00am-7.00pm, Saturday- Sunday 10.30am-6.00pm
The College computer drop-in centre is open during office hours Monday-Friday and until 8.00pm on Monday, Tuesday and Thursday should you require any advice or guidance on using computer equipment or games consoles on site.
Social Areas
Under 18's Common Room- for under 18's we have a newly fully refurbished Under 18 common room which houses TV's, indoor and outdoor table tennis, plenty of board games, live sports and even an Xbox ones with vast amounts of games to choose from. We also have the HE Centre, specifically for our University Centre students, which hosts a cafe, student study pods and a computer suite.
The social hub of the college, the Stumble Inn, houses the famous 'Stumble Tuesday' student event on the busiest night of the week. It also has pool tables, darts, giant Jenga, giant connect four, over 7 large TVs for live sports, Xbox Ones, DIY Karaoke, as well as masses of external performances.
More information about student life on campus can be found here