Agriculture & ecology students join the debate at NFU fringe event
Published

Wednesday 2 Oct 2019
A group of University Centre Myerscough agriculture and ecology students had the chance to question some of the biggest names in the industry at this year's Conservative Party Conference in Manchester.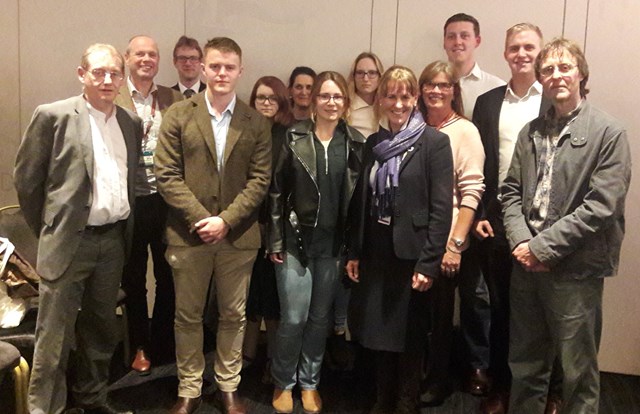 The Myerscough students attended the NFU (National Farmers Union) Fringe event, a high-profile 'Farming Question Time', as part of their enrichment. On the panel of speakers, NFU President Minette Batters was joined by Defra Secretary of State Theresa Villiers and Neil Parish, chairman of the Environment, Food and Rural Affairs Committee. The debate was chaired by Abi Kay, chief reporter at the Farmers Guardian. The discussion was wide-ranging, covering crucial topics for the farming sector, most notably Brexit, future trade arrangements and protecting our high standards, and the badger cull.
A broad range of other topics were covered during the Q&A session, including the importance of bringing back and improving the Agriculture Bill, and the importance of rebuilding trust in politics and with government, and also emphasised the NFU's forward-looking ambitions for the sector.
The attendance of such meetings by Myerscough students is usually an annual event, where learners are given the chance to hear the latest on key industry topics, expert views on the burning issues surrounding the farming industry today, networking opportunities and discussions.
Craig Thompson, Head of Agriculture at Myerscough College, said afterwards: ''The evening provoked some excellent discussion after the event and students are still talking about it. It was a stimulating and insightful evening for all concerned.
''There was a range of excellent questions from the audience, with our own degree student Matt McClymont asking a question. Well done to all for getting involved!'' 
by Dave Salmon
DSalmon@myerscough.ac.uk