Agriculture student challenges industry leaders over 'shameful career choice' at fringe event
Published

Wednesday 6 Oct 2021
A Myerscough College agriculture student has challenged the Government to do more to change attitudes towards careers in the sector.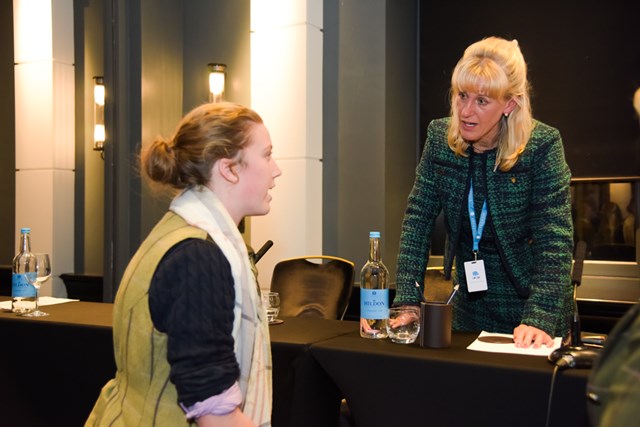 Megan Swift addressed a panel of industry experts at the NFU's fringe event at the Conservative Party Conference in Manchester, asking the challenging question:
"It felt shameful when I left high school and went to study agriculture at a land-based college. I was made to feel like I'd made a career choice I couldn't be proud of. What can the Government do to change society's perception so more young people want to study farming skills at local colleges?"
Megan was part of a delegation of twenty Myerscough students attending the event this week, and although delighted that so many of the next generation of farmers had made the trip, NFU President Minette Batters (who chaired the panel) was clearly horrified that a young agricultural student felt this way, and instantly asked Secretary of State George Eustice what had gone so wrong.
Mr Eustice said qualifications gained at land-based colleges were extremely important and more young people should consider it as a great route into a vibrant industry. He said he wanted to see more lifetime learning in agriculture, creating a clear development ladder to progress upon.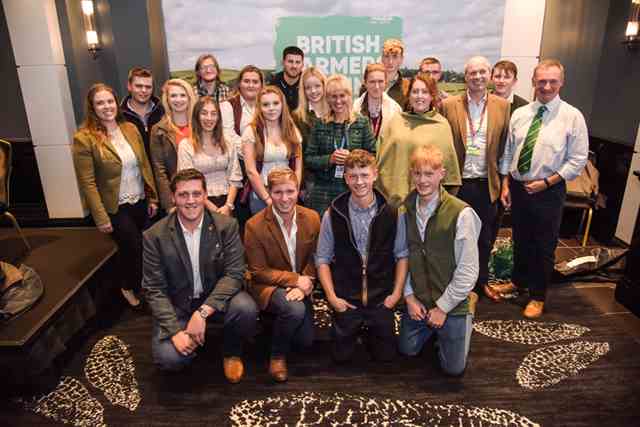 Fellow panellist Richard Holden, the Conservative MP for North West Durham, said: "I'm sure you'll have had friends who have gone away to university and returned to jobs they would have done anyway. I personally think that is bonkers. You should never be looked down upon for the route you've taken."
After the event Minette went straight to the students, and Megan in particular, to hear more about their concerns and with a clear message to inspire - they could go far in agriculture if they worked hard and were properly supported.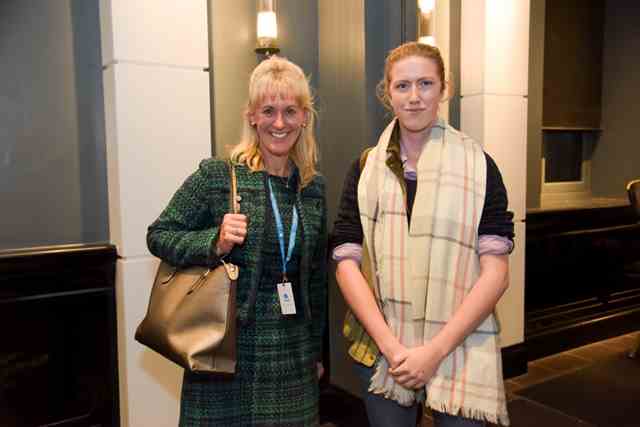 The attendance of such meetings by Myerscough students is usually an annual event, where learners are given the chance to hear the latest on key industry topics, expert views on the burning issues surrounding the farming industry today, networking opportunities and discussions.
Craig Thompson, Head of Agriculture and Countryside at Myerscough College and University Centre, said: ''Megan made quite an impact with Minette with her question about agriculture being a shameful career choice and it was fantastic to see Minette valuing her input and talking with her afterwards.
''Very well done and congratulations to Megan on taking the opportunity – she represented herself, Myerscough Ag & Country students and the future of agriculture extremely well and made us all very proud.
''Many thanks to David Hall (NFU Regional Director) for facilitating our students to attend.
 ''The students really enjoyed the evening and Minette did a fantastic job of making the students feel really valued and welcome – they came away from the event absolutely buzzing! Some great work in inspiring and motivating our next generation of farmers and agriculturalists!
''As always it was great to give the students exposure to politics in agriculture and for them to see how the NFU work with government on political issues.''
(Photographs courtesy of the NFU)