Agriculture student takes inspiration from Oxford Farming Conference
Published

Wednesday 15 Jan 2020
A University Centre Myerscough agriculture student had a fantastic experience at the 2020 Oxford Farming Conference.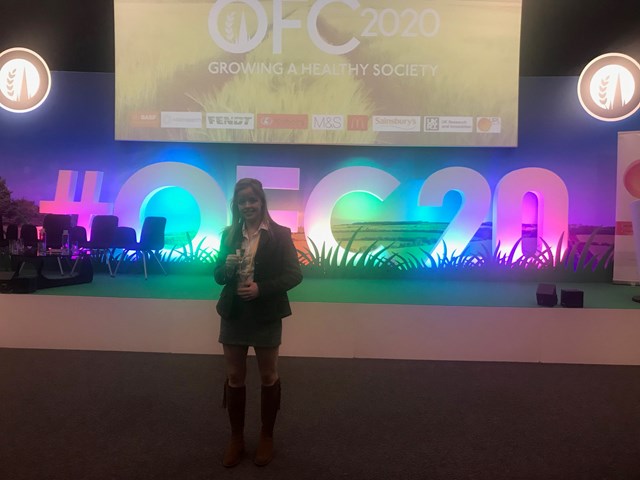 Emily Holden successfully applied for funding from the Lancaster and Morecambe Agricultural and Horticultural Society, as part of their annual scholarship programme, which is designed to assist young people in the sector to further their studies and experiences.
The Oxford Farming Conference (OFC) is an annual conference for the UK's farmers that takes place in at Oxford University, in the first week of January. 2020 was the 74th year of the event.
18-year-old Emily had a fantastic experience at the Conference, and came away buzzing with inspiration and motivation following an action packed conference, which included speeches and presentations from senior Government ministers and industry leaders, and networking opportunities with representatives from across the sector.
She said: ''The event has changed the way I think about the industry as a whole.
''It was a fantastic atmosphere in the grand, university and college buildings, with a large amount of support for the industry in terms of science, information, sponsors and the wide diversity of people and organisations involved in agriculture.
''I also liked the fact that mental health in agriculture was given recognition and openly promoted throughout the programme. The debate in the Oxford Union 'This house believes cheap food is worth the price' was great fun to observe.
''Other highlights included one evening where Defra Secretary, Theresa Villiers, NFU president, Minette Batters, and other senior government and industry leaders were giving presentations.
''The Conference has opened my eyes to all the opportunities that there are in the agricultural industry. I have met some amazing and inspirational people, and I really hope to keep in contact with them.
''Thanks to the Lancaster and Morecambe Agricultural Society for giving me an amazing opportunity to go to this fantastic event.
''It has been the best experience and I feel so inspired.''
The photograph shows agriculture degree student, Emily Holden, at the Oxford Farming Conference.
by Dave Salmon
DSalmon@myerscough.ac.uk