Arboriculture research branches out thanks to grant funding
Published

Wednesday 20 Nov 2019
A University Centre Myerscough senior arboriculture lecturer has been awarded extra grant funding to assist in his latest research.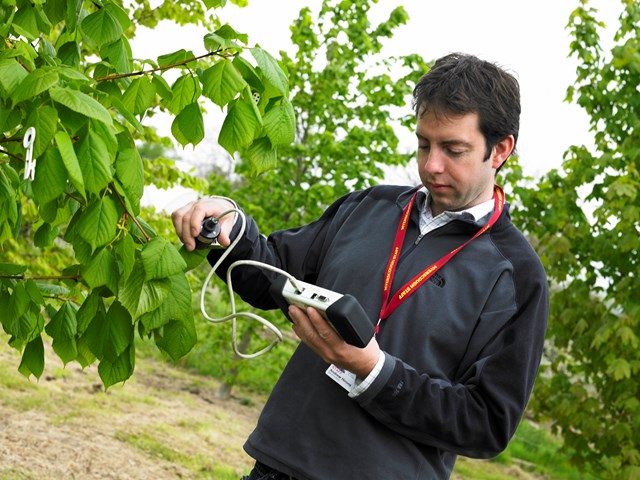 Fund4Trees has announced that a research grant has been awarded to Dr Andrew Hirons and his research group for the project 'Enhancing the performance of urban storm-water management schemes with tree selection: developing a new approach to assessing waterlogging tolerance in temperate trees.'
Whilst the increasing prominence of storm-water management schemes provides excellent opportunities for the integration of trees into new urban developments, there is considerable uncertainty over which species will perform best in these schemes. This project aims to evaluate the response of sap flow in trees subjected to waterlogging. As sap flow dynamics integrate both the aerial and edaphic environments, the response of sap flow will help to characterise waterlogging tolerance very effectively. This information will be used to compare species' performance and improve the overall confidence of tree selection for sites prone to waterlogging. It may also result in a novel way to evaluate waterlogging stress in trees.
The Fund4Trees research grant has supported this collaborative research project between Andrew Hirons (University Centre Myerscough) and Henrik Sjöman (Swedish University of Agricultural Sciences: SLU). The grant will be used to buy sap flow sensors and bolster the capacity of experiments that will take place during the growing season of 2020. Please look out for the results that will be shared at future arboricultural conferences and in academic literature.
The work is a two year project and will enable Myerscough researchers to establish and enhance their reputation in this field.
The project has also been part funded by a grant from the Arb Association, and the Tree Research and Education Endowment (TREE) Fund.
To find out more about research projects at Myerscough College and University Centre, click here
To find out more about the range of arboriculture study programmes available, click here
If you would like any further information on this project, contact Dr Andrew Hirons at ahirons@myerscough.ac.uk
by Dave Salmon
DSalmon@myerscough.ac.uk