Cricketer Jack bowled over by Myerscough student life
Published

Wednesday 10 Jun 2020
A Myerscough College cricket student has been describing how he's coped with the challenge of learning while being a professional at Lancashire CCC.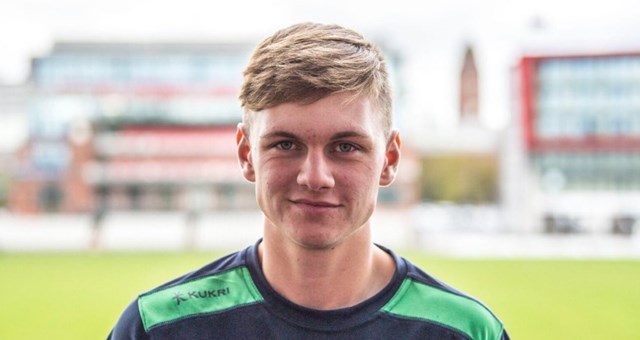 Myerscough caught up with student at the College's Old Trafford centre, left arm spinner Jack Morley, to find out how his lockdown has been going and what his advice is for new students starting the course.
Jack has had a unique college experience, balancing his studies with a full-time professional contract with Lancashire County Cricket Club and international commitments with England Young Lions.
How have you found lockdown? What have you been doing to keep yourself active?
Lockdown has been mixed for me personally, there are many things I wouldn't have been able to do around the house or with my family during the winter and especially summer as we all know how hectic the season can get. However, I have also missed the different environments where I would interact with different groups on a day to day basis.
The Sport Science and Medicine team at Lancashire have given all players specific programmes to ensure that they are maintaining their fitness levels from home, which has kept me busy most of the time as well as making sure I'm up to date with all my college work.
How are you getting on without any cricket at the moment?
It's tough, usually most days throughout the week, I'm around cricket whether that's training, playing, studying or being around my local club. Being put into a competitive environment and performing are some of the main factors of cricket which I am missing the most. I'm sure if people keep doing the right things and stick to the guidelines then we'll be able to play some cricket later this summer!
What were your hopes for your cricket this year? Any highlights from your first season with Lancashire?
My targets for this year were to be performing at a consistently high level within second team cricket, which would hopefully open an opportunity to make my first team debut in any format of the game and continue my development increasing my chances of being a first team regular.
Last season was a great season for myself in terms of playing second team cricket consistently, however one day I will never forget was when we won the second XI T20 tournament. We travelled down to Arundle for a finals day however bad weather meant there was a long delay until play occurred and the semi-finals were 5 overs a side and the final was 10 overs a side. I was very proud to be part of that squad as it was a great group of lads with an average age of 20.
You've done a great job balancing your cricket and studies for the past 18 months, how have you found that?
At the start of the two-year college course balancing my cricket and my studies was reasonably straight forward, as winter training and college activities linked nicely together as both were based at Old Trafford. As we moved into the summer months college and cricket became tougher to balance because of the increased number of training and games and there were still assignments that needed to be handed in. The college and Lancashire liaised well with each other throughout the year to help balance my workload and continued to do so at the beginning of my second year by making sure I was constantly on top of my work so my studies wouldn't have been an issue during this summer.
Have you any highlights from your time at college? What advice would you give to somebody starting at Myerscough this September?
Personally, one thing that I will always remember would be how enjoyable the college physical sessions were. There aren't many colleges that have the facilities like Myerscough do which means you're able to train and compete with your friends which was enjoyable, but these sessions also took your mind off work which was a big factor for me, it was just a great time to be around your mates and enjoy each other's company whilst improving.
The one piece of advice I would give to any future students at Myerscough college is cherish the time you're there, as I mentioned before there's not many colleges around that are like this and the days are enjoyable and they do go fast. Before you know it your two years is up, so make the most of the time, when you're there.
by Dave Salmon
DSalmon@myerscough.ac.uk