Equine degree research presented at national conference
Published

Tuesday 6 Jul 2021
Two University Centre Myerscough equine degree students presented at the annual Alltech-Hartpury Conference last week.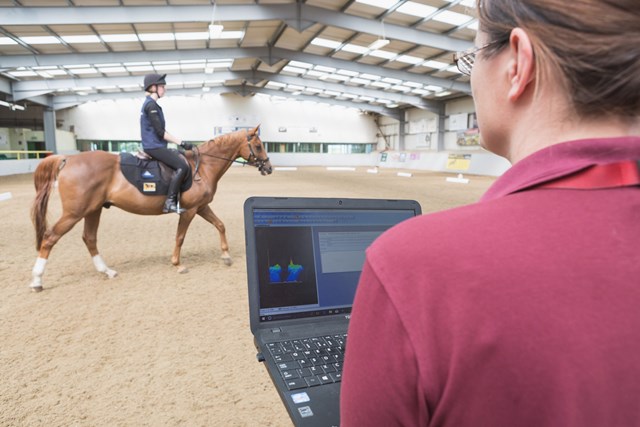 The conference is aimed at Higher Education students, providing an opportunity to experience writing and submitting an abstract, going through the review and revisions process, through to delivering a theatre presentation to a full conference audience or producing a scientific poster to present.
This year the conference was hosted as a virtual event, with Myerscough learners, Leah Crook and Jasmine Hilton, showcasing their dissertation research.
BA (Hons) graduate Leah Crook presented her findings into the impacts of Covid-Lockdown on stakeholders of the Riding for the Disabled Association. This project was conducted with the kind support of the RDA, who shared their survey data with Leah for further analysis.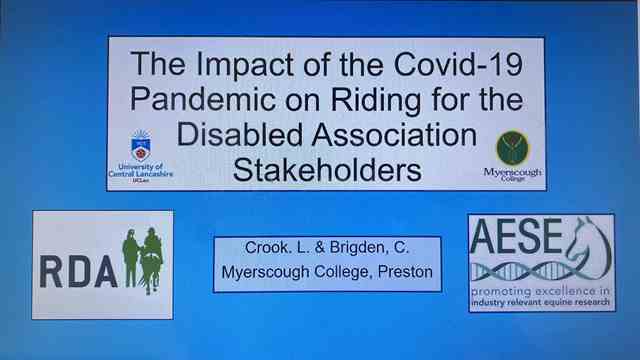 MSc graduate Jasmine Hilton presented her research into coaching experiences and long-term athlete development within British Showjumping.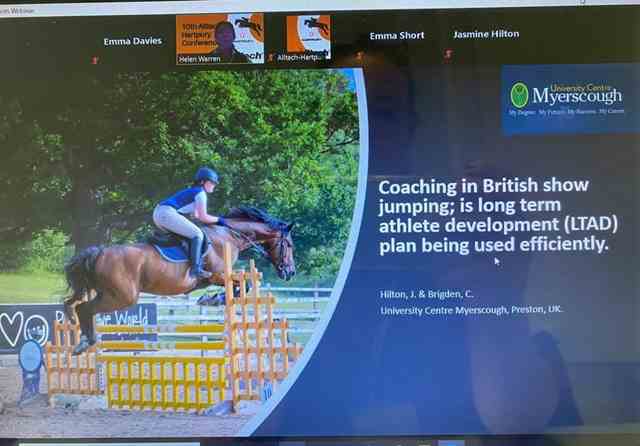 Charlotte Brigden, Assistant Head of HE Equine, said: ''It has been a real privilege to support Jasmine and Leah throughout their projects.  Both students are so committed to their studies and their sports.
''Leah performed a fantastic presentation. It's not easy to present online when you cannot see your audience, but Leah remained calm and composed.  This project emphasised just how valuable the work of Riding for the Disabled Association (RDA) is, not only for the riders and drivers, but also for the volunteers, parents and carers, who also feel a sense of community and love of the horses.
''Jasmine presented her research in the postgraduate session.  She explored the career experiences of current and past showjumpers with the aim of searching for factors that contribute towards good experiences, or highlight risks of drop out from the sport.  She presented this research with style today.  One of her strongest findings was how important mentorship is for a rider.''
The Alltech-Hartpury Student Conference allows students to present primarily to other students. Student and staff delegates representing colleges and universities from the UK, present oral and poster presentations covering a vast range of topics, and in addition, a range of keynote speakers from both a scientific and industry background offer their experience, and guidance.