FEATURE: Lancashire's first Vet School on track for September intake
Published

Monday 24 Jan 2022
Plans are well on course for the opening of Lancashire's first Vet School later this year.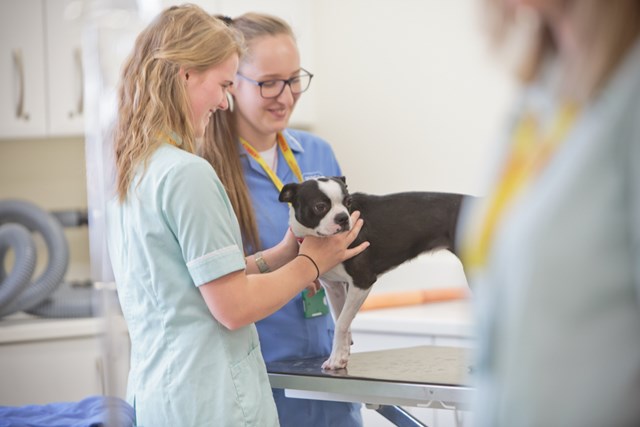 Myerscough College and University Centre is partnering with the University of Central Lancashire to create the county's first Veterinary School, which will become the 11th of its kind in the UK.
The new Veterinary School will deliver foundation, undergraduate and postgraduate courses in areas such as veterinary medicine, bioveterinary science, veterinary clinical practice, veterinary physiotherapy and rehabilitation, and clinical animal behaviour and training.
Students will benefit from Myerscough's renowned animal training facilities which have underpinned their established Royal College of Veterinary Surgeons (RCVS) accredited vet nursing programmes, alongside UCLan's experience of establishing leading UK medical, dental, pharmacy and optometry schools with significant and continuing investment in state-of-the-art clinical training facilities.
Alison Robinson, Chief Executive and Principal at Myerscough College and University Centre, said: "Myerscough College and University Centre Myerscough is delighted to be working in collaboration with the University to open this prestigious new veterinary school.
''Myerscough has been delivering land-based education for over 125 years and our experience in delivering a range of veterinary nursing, animal science, equine science and agriculture degrees will provide the ideal environment for University of Central Lancashire veterinary students to develop their practical skills. Students will be taught in state-of-the-art, sector leading facilities, which have recently benefited from a £35m investment."
These resources will be also be used for the new Vet School with the addition of bespoke veterinary equipment and facilities, ensuring a truly integrated learning environment bringing all the clinical areas together. UCLan will become one of the first universities in the world to make use of a digital, virtual dissection platform for teaching animal anatomy using the renowned veterinary Anatomage technology. Students will also undertake practical placements at local, regional and national veterinary surgeries and hospitals.
Professor Cathy Jackson, Executive Dean of the Faculty of Clinical and Biomedical Sciences at UCLan, commented: "Our new Veterinary School will be focussed on producing much needed industry ready graduates for our region, particularly as recent figures have highlighted a national shortage of vets and a sector heavily reliant on vets educated in the European Union.
"As with our Medical and Dental Schools, we have demonstrated we want to break down barriers and make education accessible to all. It's no different with our Veterinary School and we want to open the doors and offer a pathway for any student, no matter of their background, into this rewarding profession, while maintaining the very highest of education and professional standards.''
The first intake of UK and international students will be welcomed to some programmes in September, with the others commencing in 2023.
As part of the build-up, a free talk – Veterinary Education for the Next Generation – is being jointly presented on 26th January by UCLan's Heather Bacon, senior clinical veterinary lecturer, and Claire Bloor, head of veterinary nursing at Myerscough's University Centre.
It will outline current challenges within the veterinary profession and veterinary education. Specifically, it will discuss the approach to developing an integrated, skills-based veterinary curriculum as a potential solution to meeting the expectations of veterinary employers, and the opportunities for collaboration and partnership that this approach offers.
To find out more about the range of courses and how to apply, CLICK HERE
Find out more about our Veterinary Nurse courses taught at Myerscough College
Find out more about our Veterinary Nursing degrees taught at University Centre Myerscough