Graduation ceremonies postponed
Published

Friday 3 Apr 2020
Myerscough College and University Centre has taken the difficult decision to postpone the Graduation Ceremonies planned for July until later in the year due to the ongoing Coronavirus pandemic.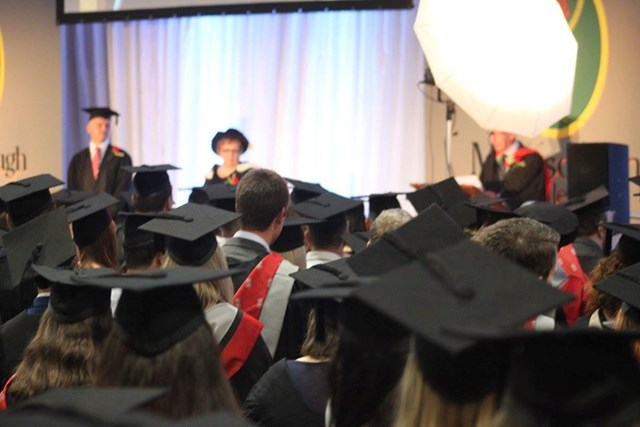 The ceremonies were scheduled to take place on 9th July, but will now be rearranged as part of ongoing efforts to protect the wellbeing of students, guests and staff. Myerscough believes that this is the right decision given the latest Government advice on containing the spread of Coronavirus and avoiding large gatherings.
In a letter to all degree students, Chief Executive and Principal, Alison Robinson, says: ''We recognise the importance of graduation to your student experience and the need for you to join us on such a special occasion, wearing your gown and celebrating your success with your family, friends and lecturers.
''We are working hard to reschedule our graduation ceremonies at a point in time that it is safe to do so. Once we have the revised date, we will communicate this to you and we hope that you will be able to celebrate your hard-earned success as you had intended. Our hope is that by announcing this news as early as possible, those who need to change travel and accommodation plans will still have time to do so.
''We appreciate your understanding at this very difficult and exceptional time and look forward to welcoming you to your Graduation ceremony later in the year We will keep you updated of the arrangements as soon as they become available.
''We hope that you all stay safe and healthy.''
University Centre Myerscough is now focusing on the processes required to ensure all our final year students graduate on time in July and whilst this will not be at a ceremony, results will be published as normal and documentation sent out to everybody in due course.
You can read a copy of the letter in full HERE  
Meanwhile, planned further education award ceremonies have unfortunately been cancelled across all centres. Again, this decision has been made to protect the health and well-being of everybody involved. Myerscough will look to provide alternative ways of celebrating student success in the coming months as the country's situation improves.
All further education have received a new letter with detailed information about course completion, studying at home, staying safe online, and mental health and support, among a range of topics.
Alison Robinson writes: ''Life has changed dramatically for all of us in the last couple of weeks. As a result of the Covid-19 pandemic, the College is now in full lockdown with no students attending College or living on site. We had originally hoped that we would be able to re-start face to face lessons on 20th April. but we know that this will not be able to happen. We will keep reviewing this situation in line with Government guidance.
''You will no doubt have a lot of questions about your course and what the current situation means for you as a Myerscough student.
''If you are due to complete your course this summer, please be assured that the College is working very closely with all the awarding bodies to ensure that you will still be able to get your qualifications. Awarding bodies will be making alternative plans to ensure you are given the grade most appropriate for you that reflects the work you have put in and are continuing to put into your studies.
''If you are part way through your course at Myerscough, then it is essential that you continue to study from home and complete the work that your lecturers set for you by the deadlines you are given so that you are in the best place possible to continue your studies once the college reopens. When this does happen, your lecturers will help you to catch up with any practical skills needed for your course and will do all they can to ensure you can progress.''
You can read the letter in full HERE    
by Dave Salmon
DSalmon@myerscough.ac.uk