HE Equine gallop to another great year
Published

Wednesday 5 Aug 2020
It's been another busy and successful year for University Centre Myerscough's equine department.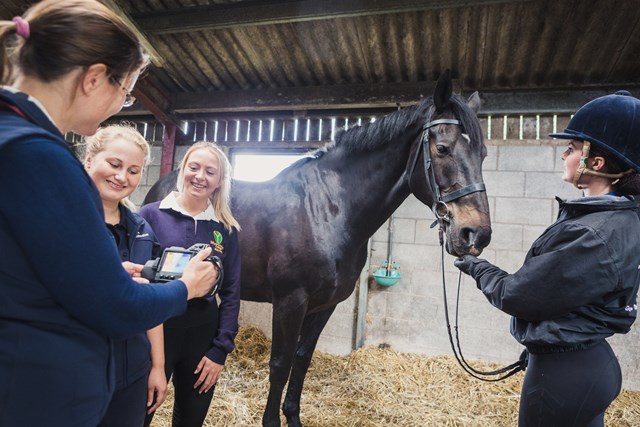 This included the latest cohort of MSc Equine Science students completed their masters degrees, while twenty-two students completed their degrees, including eight students being awarded first class honours
There have been a number of trips for the department, which have provided opportunities for students to explore the mounted police, consider rehabilitation and therapy with the team at Crow Wood Equestrian taking some of the college horses and assess rider posture at UCLan with Dr Sarah Hobbs.
Assistant Head of HE Equine, Charlotte Brigden, said: ''Whilst the Covid-19 pandemic has changed the end of the year for both the staff and students, it's been excellent to see and experience how quickly everyone adapted to this. From teaching lessons online to statistics tutorials on teams, it's been great to ensure our students succeed.
''Our plans for graduation later in the year are still underway, and changes to timetables and finalising onsite sessions will be made in the coming weeks.
''This year has been a year of firsts and quick developments from both the staff and students at University Centre Myerscough but our research and development certainly hasn't stopped. Dissertation finalisation and hand in was quickly adapted and utilised by our final year students. Completing supervisory meetings and performing statistics online via Skype, Teams and Zoom has been a steep learning curve.
''The tutors certainly missed the usual stressful yet exciting buzz that dissertation submission brings and it was lovely to get dissertation submission pictures from our students. As a team we are very proud of all of our students.''
Elsewhere within the department over the last academic year, tutor, Danielle Flood has been working hard as part of the organising committee for the UK Equine Student Conference, while MSc student Sue Nixon presented her work on the sleep patterns of stabled horses and the influence of endogenous and exogenous factors.
The Myerscough British Universities and College Sports (BUCS) Equestrian team continued their competitions in the North West leagues, with one team reaching the Regional Finals. The other team had their competitions cut short but were on track to also reach regional finals. Trials will start early September 2020, many thanks go to the team sponsor, FitBox,for their nutritional plans and exercise sessions for the team.
Four students jetted off to Vienna during the start of the pandemic, whilst some of their visits were restricted or cancelled, they still enjoyed the trip and what Vienna had to offer. Visits to the Spanish Riding School and the aquarium were enjoyed.
Charlotte adds: ''When the new academic year gets underway, we are aiming to have as many on campus sessions as possible if it is safe to do so. All practical elements of modules such as yard duties, lab practicals and ridden sessions will be provided on site.
''We hope to deliver the vast majority of academic sessions on campus, but if the situation changes and we have to return to online delivery, rest assured that we are well prepared for this.
''Initially, many trips and talks will be virtual but this will hopefully change as the year progresses. There are already plenty of industry specialists lined up, and we will also hold our first online careers day with talks from people in industry.
''As always our lecturers will be here to support all students, whether that's online or onsite.''
For more information about the range of equine study programmes available at Myerscough College and University Centre,

CLICK HERE
by Dave Salmon
DSalmon@myerscough.ac.uk