Indian farriery trip neigh problem for Myerscough's Angus
Published

Wednesday 26 Feb 2020
A Myerscough College farriery tutor is working in India, on a project aimed at improving the lives of working horses, donkeys and mules from across the world.
Brooke, Action for Working Horses and Donkeys, is an international animal welfare charity dedicated to improving animal welfare. Myerscough's Angus Wiseman, HE lecturer and Farriery Placement Officer, is currently in India helping the organisation with their mentor programme.
As part of his work in the country, Angus has highlighted a lack of suitable mobile anvils to adjust shoes on, and has sourced local production of appropriate equipment, to help increase the standard of fitting of horseshoes on the country's many workhorses. The overall aim is to improve the quality of farriery services and raise awareness regarding hoof care.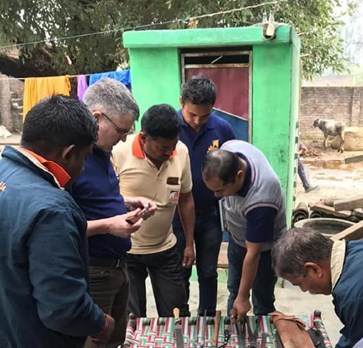 India is the world's second-most populated country in the world, with more than 1.3 billion people, many of whom rely on an estimated 1.1 million working horses, donkeys and mules to support them work the land. Over a quarter of a million people survive on earnings as low as 27-30 Indian rupees (around 30p) a day.
Each working equine animal supports an average of six people, but many families who depend on working horses, donkeys and mules for a living, face real problems rearing them. While these working animals play a major part in agriculture and transport, financial pressures often force owners to overwork them.
As part of the charity's work, owners are trained in good hoof care and farriery practice, ensuring their animals have good quality, well-fitting shoes, while owners are given advice on how to keep their equipment in the best condition. In developing countries where Brooke works, many working horses, donkeys and mules are receiving poor treatment, where farriers often have a lack of training or tools, and suffer a low status in the community.
Brooke's expert mentorship and training for community-based farriers aims to transform the farriery trade into a recognised, respected and regulated profession in low and middle income countries and make lasting improvements to animal welfare.
The photographs show Myerscough tutor, Angus Wiseman in India, working with the local community, and members of the Brooke organisation.
To find out more about Brooke, CLICK HERE
To find out more about the wide range of farriery study programmes available at Myerscough College and University Centre, CLICK HERE
by Dave Salmon
DSalmon@myerscough.ac.uk