Jean Turner RVN
Published

Wednesday 26 Jan 2022
Myerscough College and University Centre is sad to hear of the passing of veterinary nursing pioneer, and Honorary Fellow, Jean Turner RVN.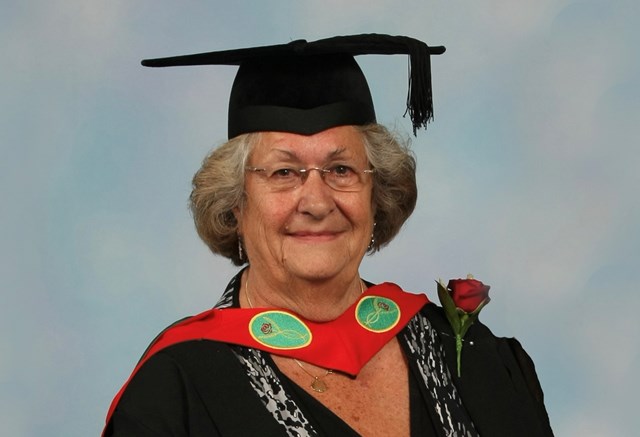 Jean qualified as a Registered Animal Nursing Auxiliary back in 1971 and worked in general practice until 1998 in roles including teacher, senior manager and managing a veterinary hospital. Her impact to the profession was enormous, and included being British Veterinary Nursing Association Council member for sixteen years.
In 2012, Myerscough was delighted that Jean accepted an Honorary Fellowship for services to the veterinary nursing profession.
Over her career Jean trained many veterinary nurses, as well as being an RCVS Examiner and Trustee.
Jean was a true representative for veterinary nursing, a great role model for all veterinary nurses and a strong ambassador for Myerscough.
Paying tribute to Jean, chair of VN council Matthew Rendle told VN Times: "Jean was a mentor and inspiration to me for most of my career – as she was for many other veterinary nurses – but most of all, she was my friend.
"To try to list all the achievements Jean (and her vet husband, Trevor) made in her career would be impossible, as there are so many, but suffice to say the veterinary nursing profession owes Jean a huge amount of thanks for her amazing work.
"At the beginning, Jean helped to establish the veterinary nursing qualification and really get us on the map. Her efforts for and dedication to the veterinary nursing profession for her whole life is incredible, and something all veterinary nurses have benefitted from to this day and, personally, Jean always supported me with guidance and reassurance, and I will miss her."
In a separate statement on its website, the BVNA added: "Her impact to the veterinary nursing profession and the BVNA was remarkable. Not only was she a BVNA council member for 16 years, she was also on the editorial board for the Veterinary Nursing Journal and a trustee of the BVNA Daphne Shipman Benevolent Fund since 1999.
"Jean was a true representative for veterinary nursing and the BVNA. She was well-loved and will be sorely missed by all those who knew her."