Myerscough celebrated at Educate Awards
Published

Saturday 30 Jan 2021
Myerscough College and University Centre has received even more award recognition, this time at the annual Educate Awards.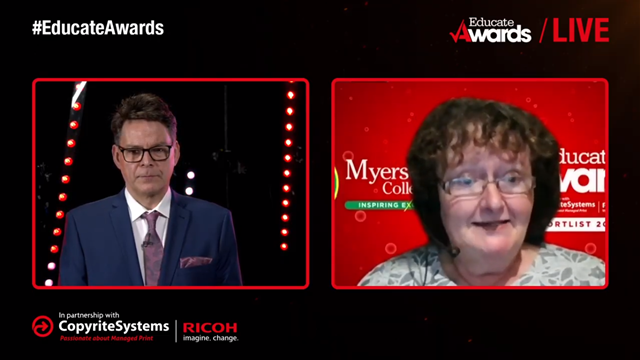 The Educate Awards is the one night of the year where the excellence of educational establishments in Merseyside, Cheshire, Lancashire and Greater Manchester is celebrated and rewarded, and is now in its ninth year.
Myerscough College is delighted to have been named winners of The Careers & Enterprise Award, recognising the fact that Myerscough is outstanding at preparing young people the best they can for their future careers. Judges were looking for excellent examples of career-related learning about the range of career pathways and opportunities available to them, whilst also developing a spirit for enterprise amongst pupils or students and encouraging entrepreneurship.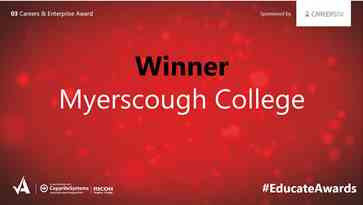 Jackie Hough, Myerscough's Careers Leader, accepted the award on the College's behalf at a special online ceremony broadcast live on YouTube.
Jackie said: ''It's amazing. Careers and enterprise is my passion. Thanks to Tom (Slater) our Careers Co-ordinator, and everyone else involved at Myerscough.
''It's so important that careers and enterprise is up there, and there's never been a more important time than now, in the pandemic, for this to be a major focus.
''We are super proud. Everyone working in education is doing an amazing job for our young people and Myerscough is an amazing place to work.''
Myerscough boasts very strong careers provision. This includes a dedicated careers team and leader, ensuring students have access to all the experiences and information they need so that they can make an informed decision about their future.
Myerscough also holds all eight Gatsby Benchmarks – a measure of having excellent practice in careers advice and guidance. The Gatsby Benchmarks provide a framework for career guidance, and reflect international best careers practice, with eight separate areas of assessment – a stable careers programme, learning from career and labour market information, addressing the needs of each student, linking curriculum learning to careers, encounters with employers and employees, experiences of workplaces, encounters with further and higher education, and personal guidance.
Myerscough was also named as runner-up in the category of Most Inspirational 16-18 Provider – This category celebrates the most outstanding delivery of 16 – 18 education provision for the academic year 2019-20, including excellent outcomes and measured success for students with inspirational and high levels of teaching and learning.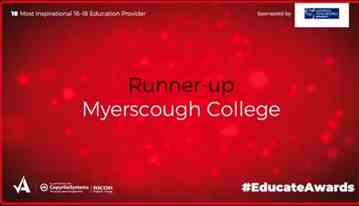 Despite the enormous challenges of the Coronavirus pandemic, it's still been another fantastic year of success at Myerscough College, from individual student achievements to wide-ranging campus developments. Myerscough is one of the country's top performing colleges with very strong further education, higher education and apprenticeship achievement rates and student satisfaction rates. Our students and staff are at the heart of our College and University Centre and being at Myerscough is more than just a job or a qualification. We believe in providing opportunities for all to succeed in a supportive, enriching, ambitious and nurturing environment so that everyone can be the best that they can be.
The many industries that we serve continue to report significant skills shortages and opportunities to forge a variety of interesting and exciting careers. Myerscough offers not just high quality academic, vocational and professional education but the opportunity to change lives through a holistic experience of course enrichment, study trips and visits, high quality work experience, community work and charity fundraising. This broad ranging experience builds confidence, resilience, communication skills and life skills, which enables our students to progress into their chosen careers – demonstrated by our 97% positive destinations by our further education students and 98% of our degree students progressing into education, training or employment within six months of graduation.
Kim O'Brien, founder of the Educate Awards, said: "A huge congratulations to all the winning schools and colleges! I would also like to say a big well done to the runners-up, those who were shortlisted and everyone who took the time to enter last year. You should all be very proud of yourselves!"
"It has been really tough for those working in schools and we are so pleased that we have managed to find a way to shine a spotlight on the hard work and dedication that goes on inside and outside of school. We hope this has given a much-needed lift to those in education, given the incredibly challenging times we are going through at the moment."
Kim added: "2021 is the tenth year of the Educate Awards and we are very excited to start planning an extra special event!"
by Dave Salmon
DSalmon@myerscough.ac.uk