Myerscough Motorsport hits top gear at Mull Rally
Published

Tuesday 5 Oct 2021
Myerscough College & University Centre will be well represented at the famous Mull Rally at the weekend.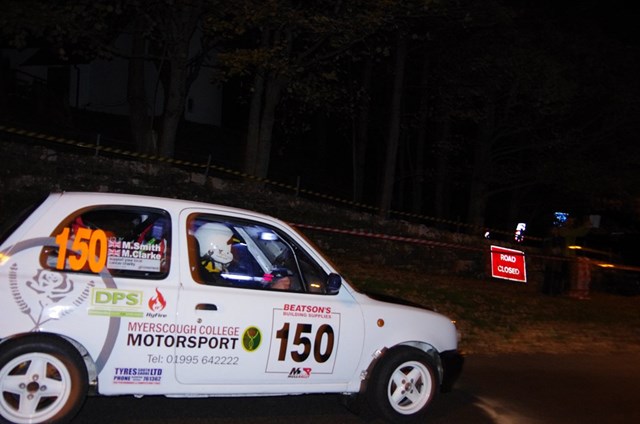 The department has secured a last-minute deal to hire its Nissan Micra rally car to local driver Charles Andrews and co-driver Louis Baines.
It is not the first time on the Hebridean island for the College team or for the trusty Micra. The student prepared and run car saw action in 2016 on the tricky asphalt stages, finishing 77th from a seeding of 150 at the hands of veteran crew Mark Smith and Michael Clarke.
The 11th hour deal was secured when Lancaster driver Charles' own car became unavailable. Myerscough lecturer Danny Cowell, who will head up the student team, explains: "I know Charles and Louis through competing myself, and when the car they bought proved to need more work than expected ahead of the rally, I offered Myerscough College's services rather than them losing their entry fee, ferry costs and accommodation deposit."
"The Micra still need some re-preparation after its last outing, but we have assembled a small team of students who are willing to work flat out before we need to leave for the ferry this Thursday. Charles and Louis are coincidentally seeded at number 150, so their challenge is to finish safely and above 77th!"
Head of Motorsport -Dave Gardner added: "I have such good memories of being on Mull supporting cars when the Tour of Mull was a round of the Motoring News Rally Championship some 40 years ago, so I am sure this is an event that the students will remember for ever."
The 148-stage mile event takes place on the closed public roads on the Isle of Mull and is, for the first time since its inception in 1969, a round of the British Rally Championship. The gruelling route starts Leg 1 on Friday at 19.30 from Tobermory, with more stages on Saturday afternoon and evening before the winners' parade and prize-giving on Sunday from 14.45.
Find out more about the range of motorsport study programmes available at Myerscough College and University Centre here
https://www.myerscough.ac.uk/courses/motorsports/
Follow the team's progress on Facebook at: www.facebook.com/MyerscoughMotorsport