Myerscough's basketballers are European history makers
Published

Monday 2 Mar 2020
Myerscough College's basketballers have become champions of Europe after winning the European Youth Basketball League (EYBL) regular season.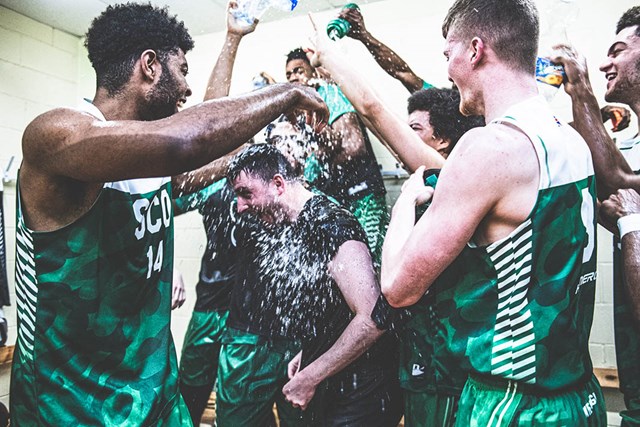 Myerscough College's Basketball Academy won all of their five games in the third and final stage in Valmiera, Latvia, to finish with a record of 14 wins from their 15 games across three stages, including 12 straight victories. The under-20 competition regular season is staged across three weekends throughout the year, and concludes with a Final Four next month, with Myerscough the top seeds heading into the Superfinal.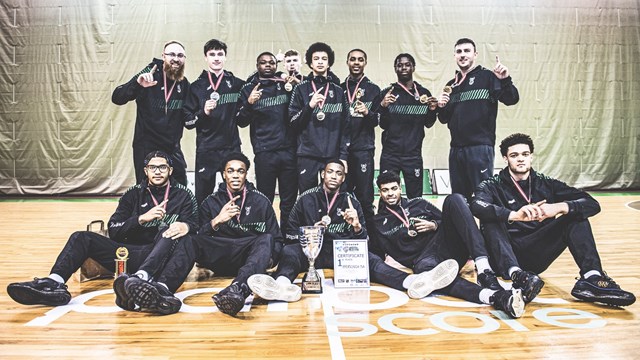 Stage III saw victories for Myerscough over BC Tsmoki-Minsk (68-43), BS DSN (80-60), Klaipeda VKKM – Neptunas (63-49), ValmieraBSS (77-73), and SPB University (96-46). Previously, Myerscough were named champions of Stage II, after also winning all five of their games over three days, against Sandvika BBK (69-47), BC Liepaja (54-41), BS Jugla (69-57), BC Ventspils (62-52), and BC London Elite (54-47).
The EYBL is one of the premier FIBA competitions for juniors and features renowned teams from across the continent, with Myerscough joining the Under-20 'Euroleague' format tournament. The competition is held over three weekends, with teams playing five games in each stage. The U20 league table comprises of seventeen teams from different countries across the continent, with Myerscough's record ensuring they finish top of the table.
It is only Myerscough College's second season of competing in the EYBL. In 2019, Myerscough came within a whisker of becoming overall champions, losing in the Superfinal.
Neal Hopkins, Myerscough's Basketball Programme Leader, said: ''I've poured my life into basketball for as long as I can remember to earn a moment like this. This is a moment in British basketball history that will forever belong to Myerscough College!
"Playing in the EYBL has provided our players, staff and the programme with an amazing opportunity to gain experience playing at a very high level against some of the best U20 teams in Europe.
"The thing we've really learned over the last 12 months is the effectiveness of the British style in Europe. The boys have bought into what we as a coaching staff are trying to preach and that makes us a difficult team to play against."
Myerscough basketball coach, Troy Culley, added: ''16 months ago we joked about not winning a game in Europe when we stepped into the unknown. In 2019, we came up short. In 202,  we learned and now are European Champions. Neal (Hopkins) had the vision, and players past and present brought it to life.''
Myerscough College Chief Executive and Principal, Alison Robinson, said: ''It's a tournament to be incredibly proud of. Neal and his team have gone from strength to strength with multiple national titles and now European Youth Basketball Champions. We are so proud of all the students and staff on an incredible achievement.''
There was also personal success for two Myerscough College basketball students.
Bradley Kaboza was named European Youth Basketball League Most Valuable Player, for a second consecutive stage, while Franklin Agu received the Team's Best Player award at EYBL Stage III in Valmiera as voted on by the opposing teams.
Bradley said: "From the start of the season I put myself in a place where I wanted to be the one to step up in these moments. It's been great to have the belief of my teammates — when I have that it makes me more confident to perform."
 "This team is special. We're not phased by anything — if we're down, up or in a close game — that goes from the coach down to the last man on the bench and that's something you don't find in every team. That makes us effective and I'm lucky to be playing with these guys."
Franklin said: ''Not everyone has been able to experience this type of level of basketball, so it's a great feeling to be part of something so rewarding.
"I want to do anything I can, like all the little things, to contribute to the team so we can keep putting ourselves in positions to be successful.''
(Extra content and photography courtesy of Allen Gunn)
by Dave Salmon
DSalmon@myerscough.ac.uk