Myerscough's equine research is helping the whole industry
Published

Friday 19 Jun 2020
Myerscough College and University Centre's equine research has been highlighted as being of significant benefit to the industry.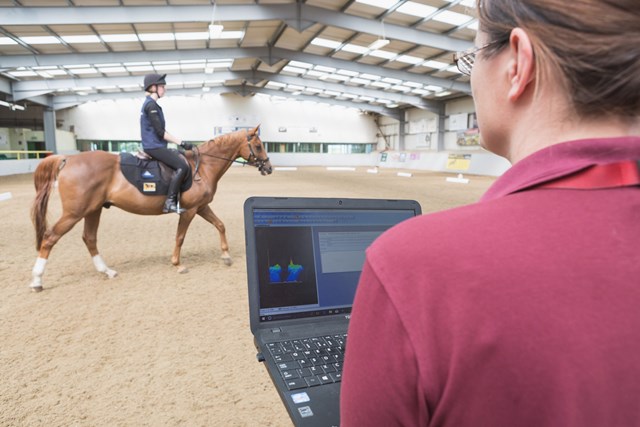 Myerscough strives to provide applied, in-field research that is relevant to the land based and sport industries. Within the equine department, the greatest priority is to work collaboratively with our undergraduate and postgraduate students on research, so that staff and students work together on projects.
Among the more substantial equine projects are:
Equestrian Sports Surface Research – Research and Consultancy in Equine Surfaces
Myerscough is part of a large international collaboration involving six universities, which advised the IOC on the Equestrian Surface at London 2012. In preparation for the Olympics, the group worked closely with Andrews Bowen to test the surface on the raised platform required in order to protect biodiversity at Greenwich Park. The group also produced the International White Paper on equestrian surfaces for the FEI and co-produced a 'layman's' guide to equestrian surfaces.
The research group have a suite of testing methods and apparatus, including a biomechanics hoof rig which simulates a horse landing, and a torque rig, which measures rotational shear. A number of students have contributed to this research project, including five Masters by research, and two PhD students.
Investigating Risk Factors in Eventing
This project began life as an undergraduate dissertation, involving the analysis of 2012 horse/rider records from B.E. eventing. The unexpected and rather alarming finding was that riders who were placed in the top three prior to cross county (following dressage and showjumping) were twice as likely to experience a horse fall. The research was presented at the International Society for Equitation Science Conference in Denmark, following which, the College was contacted by Jonathon Clissold, B.E.'s National Safety Officer with an invitation from the FEI to the 2015 FEI Eventing Risk Management Seminar in Madrid.
The project was shared with international eventing safety officers from around the globe at this event. Following this, the College funded the student for a PhD to develop the project. The study analysed B.E.'s extensive results database to further validate the findings. A follow up project investigated physiological responses of horse and rider during cross country phases. The student was invited back to the FEI Risk Management Seminar in Lausanne to share this development.
Equine End of Life
Advancing Equine Scientific Excellence was a subcommittee of the BEF's Equine Development portfolio, established by Professor Pat Harris and Dr Georgina Crossman, to help enhance equine research. The group have led a number of collaborative projects, all of which Myerscough have contributed towards. The Equine End of Life project was supported by World Horse Welfare and the Donkey Sanctuary, with the aim of providing an in-depth awareness of attitudes to equine euthanasia and end of life decisions.
Students from 13 institutions, including Myerscough, conducted depth interviews with horse and donkey areas in their own regions. The data were then collated and used to help develop the World Horse Welfare's "Just in Case" owner support resources, as well as the Donkey Sanctuary's end of life materials.
You can read more about Myerscough's equine research here:
Investigating Risk Factors in Equestrian Eventing
Setting the gold standard for equestrian sports surfaces
The importance of sector-leading equine research has been highlighted by industry publication, Horse & Hound, which shows that equestrian universities and colleges such as Myerscough, aren't only for educating students, they also provide a platform for influential studies.
by Dave Salmon
DSalmon@myerscough.ac.uk