Myerscough's Sport Research Expo showcases how to increase participation levels in sport
Published

Friday 19 Nov 2021
Myerscough's Sport Research Expo brought together industry experts, lecturers and higher education students to discuss, debate and challenge the factors which affect participation in sport.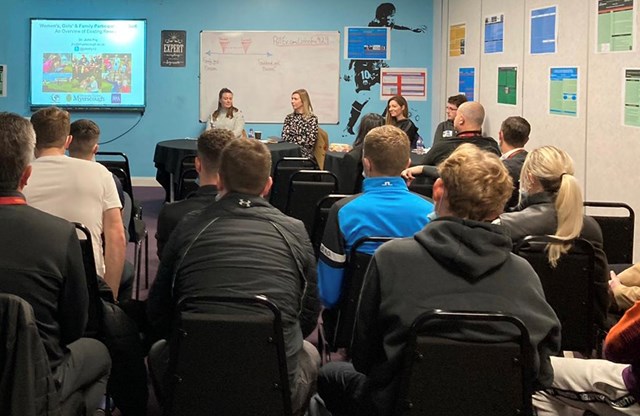 The event began with a keynote talk from Dr John Fry (Research Lead for Sport) who outlined the research into factors that affect women's girls', and family participation in golf.
Following the keynote, a panel debate was opened between industry experts from across the sport sector and Myerscough students.
Industry guests included: Emma Ballard (Editor of Women & Golf Magazine), Lauren Spray (Women and Girls Participation Manager, England Golf), The Jazzy Golfer (Social Media Influencer), and Phil Hall (Co-author, R&A Research on Women in Golf).
A number of topics were discussed, including: dress code requirements at golf clubs, the format of playing golf, and how to go about making changes in the golf industry. Students then offered a number of recommendations that golf clubs could do in order to promote wider participation.

John said: ''Participation figures in traditional versions of golf appear to be on a slight downward trend, however, there is significant demand outside this with 'newer versions' of golf, such as TopGolf and Junkyard Golf.
''It is clear the golf industry must consider how the traditional golf offering can be adapted to meet the demands of the modern consumer.''
Jasmine, aka The Jazzy Golfer, said: ''We debated a number of different topics with the golf students and I was so impressed by their enthusiasm for changing the game for the better and for their suggestions.
''If these juniors are our future golf club managers, influencers, presenters, golf business owners and directors then our sport is in very safe hands! A massive thank you to Myerscough for having me.''
In the afternoon Myerscough students presented their Industry Project research posters. The posters covered a wide range of applied research topics in sport, and prizes were awarded for best posters.
BA Golf Management student Sophie Lee picked up the 1st prize for her work assessing women's participation in golf. BSc Coaching & Performance students Tom Carpenter and Luca Hardman picked up the 2nd and 3rd prizes, for work on visualisation in cricket and impact of relative age effect in soccer.
Zulakha Desai, Higher Education Assistant Principal, commented: "Research is the bedrock of Higher Education provision at Myerscough, and this was a fantastic opportunity to share our research projects which are conducted nationally and internationally with public and private sector organisations.
"Sports students took the opportunity to present their research posters during the event, and facilitated discussions on research questions, methodologies and intended outcomes of their work.
"Students presented with a great deal of professionalism, and the day as a whole will stand them in good stead as they continue their higher education journey with Myerscough, and then into the industry in the future".
Further details on this research are available from Dr John Fry by emailing: jfry@myerscough.ac.uk