Myerscough welcomes triple Olympic Dressage gold medallist
Published

Tuesday 3 Mar 2020
A capacity crowd welcomed triple Olympic dressage gold medallist, Charlotte Dujardin CBE, at Myerscough College's International Equine Arena at the weekend.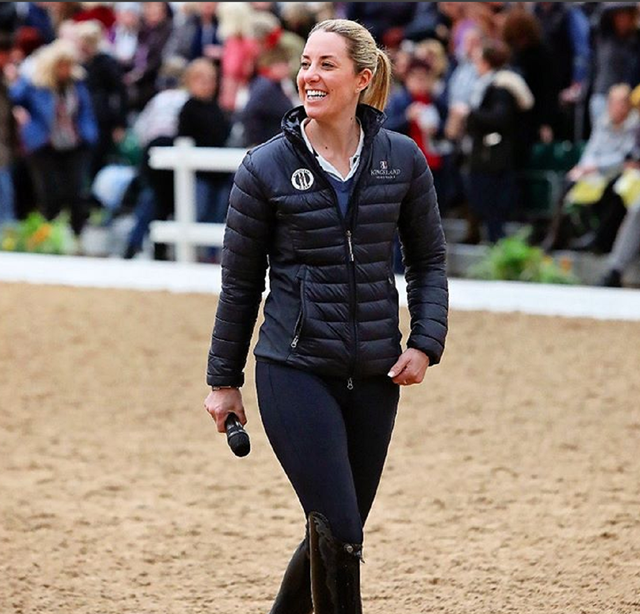 Britain's most successful dressage rider in history made a special appearance at Myerscough for a 'through the levels' masterclass. Working with a number of horses through the day, she demonstrated the training techniques that have kept her on podiums around the world for years.
As Olympic year is upon us, this was a unique occasion to learn from one of the best in the world, in an intimate setting, with the day earning rave reviews from the audience.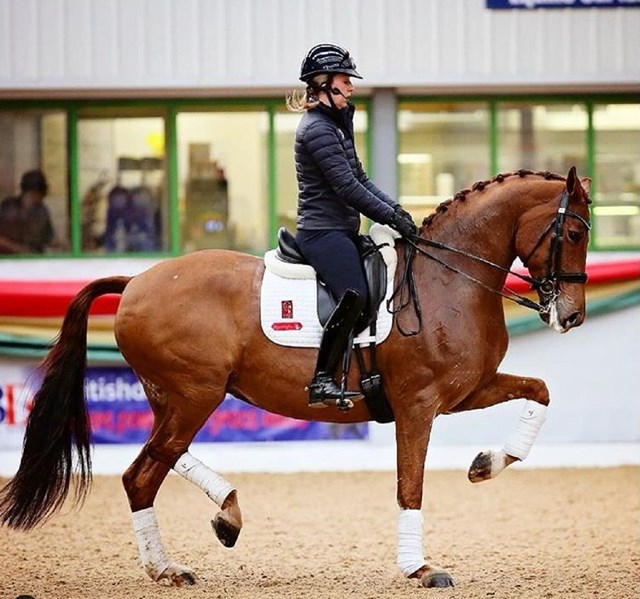 Above: Charlotte Dujardin on Mount St John Valencia (c) Rose Lewis for Piaffe
Charlotte Dujardin said: ''I just want to say that I am totally overwhelmed by everyone who turned out for my masterclass at the Myerscough International Equine Arena on Saturday.
''I really enjoyed it so much, so thank you. I want to say a huge thank you firstly to the riders who put themselves forward for this and who showed the training through the levels so beautifully, flaws and all as it takes a bit of courage.
''I also rode the very exciting Mount St John Valencia owned by the Mount St John Stud, and given she has never been in a demo like this and is very hot, she behaved beautifully and showed just what an exciting horse she is for the future. It was also great that there were errors when I was practising the changes, so the crowd could see that we all face the same challenges with our horses in training; it's how we correct it, learn and grow from there as a partnership which is always the take home message.
''Thank you to Saracen Horse Feeds, Königs Reitstiefel, horsehealth.co.uk Country Frog, Finer Equine and KBIS British Equestrian Insurance for supporting the event. We are all so grateful.
Above: Charlotte Dujardin on Mount St John Valencia (c) Rose Lewis for Piaffe
''Thank you also to Alison Robinson, Kelly Thompson and all of the team at Myerscough College. My management have said you are one of the best teams they have ever worked with on an event like this, anywhere in the world, and it really showed on the day, in how effectively it all ran and was presented.
''Thank you so much to all of you at Myerscough for welcoming me. And finally, as always, thank you to Ian and Alan for the support and to all of you who came. This really was a special day to share with you and I hope you took away some learnings for your own riding and horses!''
Above: Myerscough College equestrian staff with Charlotte Dujardin & Caitlin Saddington - grade 1 para rider, who was the College's special guest on the day
Charlotte Dujardin CBE is an elite British dressage rider, Double Gold Medalist at the London 2012 Olympics Games, European and World Champion and holds all three World Records in Dressage. She also retained her Individual Gold Medal at the Rio Olympics in 2016.
Born in Enfield, Charlotte was brought up in Hertfordshire and started riding as a two-year old. By sixteen years old, Charlotte, with the devoted backing and support of her family, had won the Horse of the Year Show competition four times and was a winner at Hickstead on three occasions. After further encouragement from her trainer, Debbie Thomas, Charlotte took up dressage with a horse bought from her grandmother's inheritance.
In February 2007, she had some lessons with Carl Hester, and after ten days at his yard and spotting her talent, he offered her a job as a groom at his yard in Newent, Gloucestershire, where she has since remained. Charlotte's horse at the time was Fernandez whom she trained and brought through the levels. From the start, Charlotte was asked to bring on the novice Dutch Warmblood gelding Valegro, owned by Hester and Roly Luard, with the intention of that horse being ridden by Hester. However, after competing in their first dressage Grand Prix event in 2011, the combination became part of the successful team, who won gold in a European Dressage Championships competition at Rotterdam and thus began their meteoric rise.
Dujardin and Valegro were selected to represent Great Britain at the London 2012 Olympic Games and in the first round, the team set a new Olympic Record of 83.784%. On 7 August 2012 the pair were members of the team, which won the gold medal in the team dressage event. Two days later, in a routine which included Land of Hope and Glory, The Great Escape and the chimes of Big Ben; the pair won the gold medal in the individual dressage event with a score of 90.089%
Myerscough College hosts a series of events and competitions throughout the year at its International Arena, including British Show Jumping Association Shows, Unaffiliated Dressage competitions and Unaffiliated Show Jumping competitions.
​The equestrian centre features two indoor arenas, as well as outdoor exercising and riding areas, plus stabling for more than 50 horses and plenty of field space, and also an on-site Equine Spa which uses salt and mineral rich water therapy to promote healing and rehabilitation in injured horses.
For more details about the range of events at the Myerscough College International Equine Arena, CLICK HERE or follow them on Facebook HERE 
by Dave Salmon
DSalmon@myerscough.ac.uk