Preparations continue for Arbor Day 2021 as new Patron announced
Published

Monday 12 Oct 2020
Preparations continue apace for Myerscough College's second Arbor Day UK, following the huge success of the inaugural event earlier this year.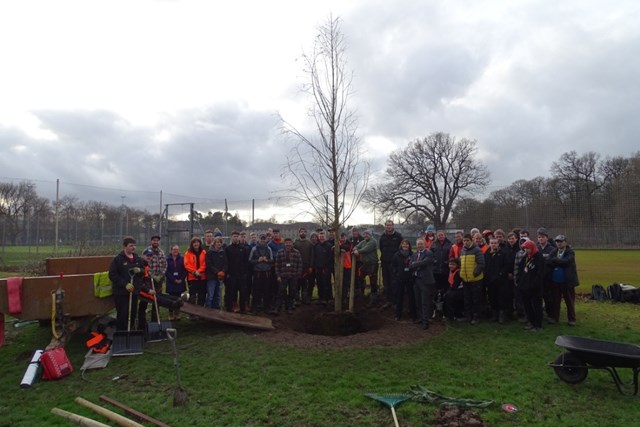 Myerscough College will stage another special day of celebration, planting and careers advice in 2021, as 'Arbor Day' returns for a second year.
The day – on 4th February 2021 – will be a celebration of trees, those that work with trees (arborists), and recognition of an important global industry. The event will again take place at Myerscough's main Preston campus at Bilsborrow. Due to on-going restrictions on social gatherings, it's difficult to say exactly how the event will exactly run, but many more trees will be planted, a new woodland area will be created on the campus, and Myerscough's greenspace staff and students will be engaging in planting initiatives with local communities.
The 2020 event back in February featured a number of VIP guests from as far afield as Gibraltar and Italy, major industry guest speakers, a tree climbing demonstration, as well as an official tree planting event at the centre of the College campus to mark the occasion. Work also continues on a new woodland area which is being created on campus, called 'Arbor Day Wood'.
Senior Lecturer in Arboriculture, Duncan Slater, says: ''Despite all the disruption this year, we are doing all we can to make our Arbor Day at Myerscough College a bigger and more exciting event - albeit that it will have to be a socially-distanced and mostly digital event this year.
''We are starting the build-up to the event now. As well as planting many trees with our staff and students, team members take on individual challenges to raise money for charity.
''We are raising money in aid of Mersey Forest Foundation and every donation will help. Thank you in advance for your contribution to this cause that means so much to us. Our charitable activities act to enhance and improve, maintain and protect our environment and landscape within the north west, for the benefit of everyone.
''As part of our efforts, we are planting 3,000 trees by creating a new woodland area on the College's estate.
''The new woodland is away from the road network, with work well underway. I've already created a small yard space by the entrance gate to facilitate storage of planting materials, briefing sessions for students coming to help plant the new woodland (with enough social distancing) and make sure access to the site is maintained in wetter weather.''
If you want to help us plant more trees, please consider a small donation BY CLICKING THIS LINK
Myerscough can also announce the event now has an official Patron.
Dan Snow MBE, popular historian and television presenter, was already a big supporter of Arbor Day, and last year generously donated a redwood tree and writing a letter of endorsement for last year's event.
by Dave Salmon
DSalmon@myerscough.ac.uk