Student Covid-19 testing goes with the flow
Published

Thursday 3 Dec 2020
Rapid 'lateral flow' Covid-19 tests are being offered to all Myerscough College and University Centre residential students to support the government's Christmas Student Travel Window.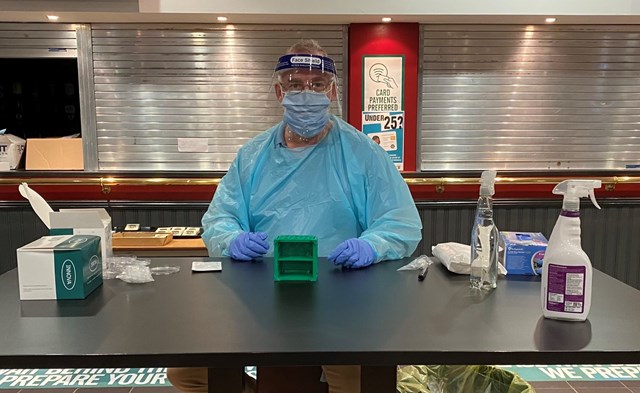 To support students in getting home safely for the Christmas break, students can now access rapid COVID testing, free of charge. These new and quicker tests are delivered by NHS Test and Trace and are for people without Coronavirus symptoms. All residential students are being strongly encouraged to take part in the scheme, although it isn't compulsory.
Chief Executive and Principal, Alison Robinson, said: ''We are making this available to our residential students so that they can have the peace of mind that they are able to travel and are keeping their family safe.
''Every residential student studying at Myerscough College & University Centre is eligible to take these tests, as long as they don't have COVID-19 symptoms. Students shouldn't feel anxious about getting a test, and we have plenty of help available from our Residential and Student Support teams.
''By taking a test, even if a student doesn't have symptoms, can help keep their family members and community back home safe. Once they get a negative result, they can travel as soon as possible, and continue their studies remotely ahead of the Christmas break.
''We will also be offering tests on their return in the New Year, to further ensure that they remain safe in our residential accommodation.''
All eligible students have been contacted with details of how and when they can access the testing system, which began yesterday evening, and will be available every day for the next week.
A test via a lateral flow device doesn't require a laboratory to process them, and therefore the result is available quickly. The testing programme is aimed at students without coronavirus symptoms, but who could still be infectious and unaware of it, so they can get tested to give them enough time to self-isolate before going home if necessary.
The programme is being run in conjunction with the NHS as part of the Government's drive to get students home for the holidays without risking another spike in Covid-19 cases.
by Dave Salmon
DSalmon@myerscough.ac.uk