SUCCESS STORY: Taylor steps into in the high-stakes world of motorsports management
Published

Friday 2 Oct 2020
A University Centre Myerscough graduate is making a name for himself in the world of motorsports management.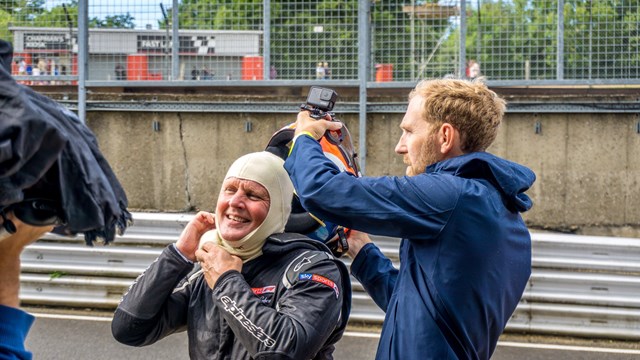 Taylor Walsh completed a BSc honours programme in Motorsport Management and Logistics, and now runs successful management and consultancy firm, VMP International. Based in the Ribble Valley, the company's services include designing websites, sports photography, representation, marketing and design, and sponsorship. Initially concentrating on the motorsports industry, a recent rebrand means the company's services are available to all other sports.
Taylor initially worked as a business consultant in Lancaster, but having being a long-term motorsport enthusiast, enrolled on the motorsport management and logistics course at Myerscough in 2017. During his first year of study, through the excellent industry contacts available for students on the course, contacted a race team owner, securing a role.
Taylor says: "I rang him and, while he said he didn't have a position for me, he asked if I did marketing. I had no idea about marketing, but I just said 'yes, I can do that' and he hired me for the year. I bought a camera off eBay for £125 and started freelancing doing his social media and press releases, which was great, and - at the end of the year - I set up VMP.''
Speaking about his time studying at Myerscough, he adds: ''The reason I chose Myerscough is because the programme is coursework based, and that allowed me to apply myself more accurately.
''The success of my company is thanks to the base foundations I learned at Myerscough.
''I hope my career will continue to take off. I enjoy promoting drivers and looking after their business interests, and working with race teams across multiple disciplines.''
"It's an interesting industry,'' Taylor told the Lancashire Post. ''It's cut-throat out there, so if I want to have the reputation of being honest and being able to hold my head up high. I enjoy the high stakes and that's why business appeals to me because you live and die by what you do.
"During coronavirus, budgets have been tight, but I hope to have three to five full-time staff by Autumn 2022. I emailed my clients and told them we'd continue their marketing in lockdown and that they had a much longer notice period for payment, which allowed them some breathing room. I trusted them and they trusted me.
"Being a business owner has been a really mixed emotional journey; when you start, you're full of energy and you know what you want the company to be, but it's a roller-coaster.''
Click here to find out more about the range of motorsport courses available at Myerscough College and University Centre
by Dave Salmon
DSalmon@myerscough.ac.uk