SUCCESS STORY: Vet nurse graduate Lottie praised for her studies
Published

Wednesday 20 Jan 2021
A University Centre Myerscough veterinary nursing graduate is looking forward to a promising career after being recognised for the quality of her studies.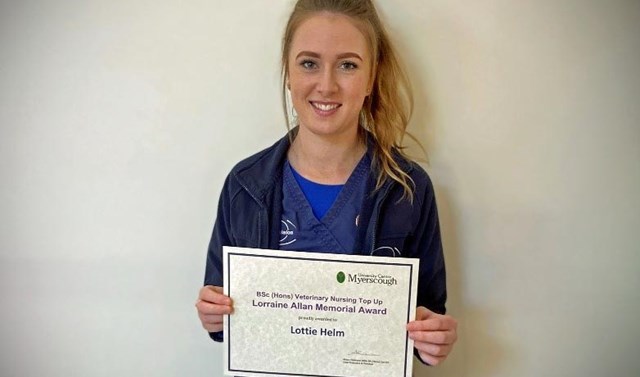 Lottie Helm graduated last summer with first-class honours and also received special recognition from tutors and Myerscough's Principal, Alison Robinson, after being named as the 2020 recipient of Myerscough's Lorraine Allan Memorial Award, for combining high quality study with the demands of a full-time job in the sector.
The award is named in memory of Lorraine Allan, Myerscough's former head of equine, farriery and veterinary nursing, who died in June, 2019.
RVN Lottie works at Veterinary Vision, a dedicated ophthalmology referral service in Penrith – and had been working towards a BSc (Hons)in Veterinary Nursing top-up degree at Myerscough, alongside her day job.
Alison Robinson, Chief Executive and Principal at Myerscough, praised Lottie for being a role model to all veterinary nurses who wished to advance their careers academically and for her "exceptional" dissertation, which looked into the utilisation of veterinary nurses.
Lottie's citation said: ''Lottie is an exceptional student and has worked extremely hard throughout this demanding two-year part-time top up degree, alongside working full-time as a registered veterinary nurse in veterinary practice.
''She is a role model to all RVNs who wish to advance their careers academically. Lottie has a very positive attitude to her studies and the grades she has achieved in all assessments have been outstanding. Her final dissertation research project, entitled 'An investigation into the utilisation of RVNs' was an exceptional piece of work, very relevant to issues the profession is facing today, and was awarded a well-deserved high first class honours grade.
''We wish Lottie every success in her future career.''
Lottie said: "I wasn't expecting the award at all. When it arrived in the post, I didn't realise what it was – my mum had to tell me.
"Veterinary nursing was always something I wanted to do. What we do at Veterinary Vision is very specialised, so I have had a lot to learn. You never get the same day twice; there is always something different, and I am looking forward to learning even more."
by Dave Salmon
DSalmon@myerscough.ac.uk