Celebrating a great year at Myerscough College
Published

Friday 29 Nov 2019
It's been another fantastic year of success at Myerscough College, from individual student achievements to wide-ranging campus developments and national awards.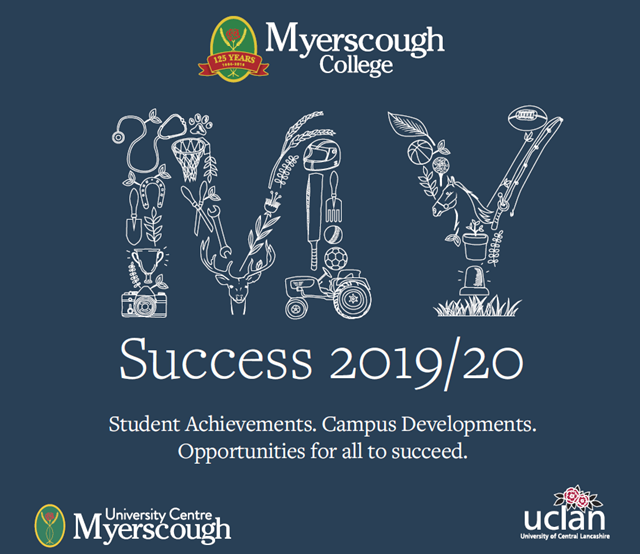 CLICK HERE TO READ OR DOWNLOAD OUR 2019 'MY SUCCESS' BROCHURE
This year has been very special for all of us at Myerscough College and University Centre Myerscough as we marked our 125th anniversary back in May. We started with just ten cheesemaking students and have grown to around 5,000 students studying for more than 30 subject areas from beginners to doctorate level.
CLICK HERE TO READ OR DOWNLOAD OR 125TH ANNIVERSARY CELEBRATION BROCHURE
We are delighted that we have continued to be one of the country's top performing colleges with very strong further education, higher education and apprenticeship achievement rates and student satisfaction rates. Our students and staff are at the heart of our College and University Centre and being at Myerscough is more than just a job or a qualification. We believe in providing opportunities for all to succeed in a supportive, enriching, ambitious and nurturing environment so that everyone can be the best that they can be.
The many industries that we serve continue to report significant skills shortages and opportunities to forge a variety of interesting and exciting careers. Myerscough offers not just high quality academic, vocational and professional education but the opportunity to change lives through a holistic experience of course enrichment, study trips and visits, high quality work experience, community work and charity fundraising. This broad ranging experience builds confidence, resilience, communication skills and life skills, which enables our students to progress into their chosen careers – demonstrated by our 97% positive destinations by our further education students and 98% of our degree students progressing into education, training or employment within six months of graduation.
We pride ourselves on being a fully inclusive College and have once again demonstrated this through our successful reaccreditation as Leaders in Diversity by the National Centre for Diversity. The Leaders in Diversity kitemark demonstrates our commitment to and embedding of the principles of FREDIE – fairness, respect, equality, diversity, inclusion and engagement.
As part of our ongoing £35m campus development programme we hosted the official opening of our new Animal and Equine Centre at Croxteth in what is our 20th anniversary at the Centre and the opening of our brand new campus at Walton Hall in Warrington in September. We are proud to offer outstanding education and training facilities working in partnership with over 3,000 employers annually to ensure our students are truly employment ready.
This end of year celebratory brochure identifies a number of both collective and individual staff and student success stories and we hope that you enjoy reading it as much as we have enjoyed our year, living, working and studying here at Myerscough.
We've compiled a selection of highlights from 2019 including student achievements, campus developments and awards, into our annual 'My Success' brochure.
You can read or download a copy of it by clicking HERE   
by Dave Salmon
DSalmon@myerscough.ac.uk